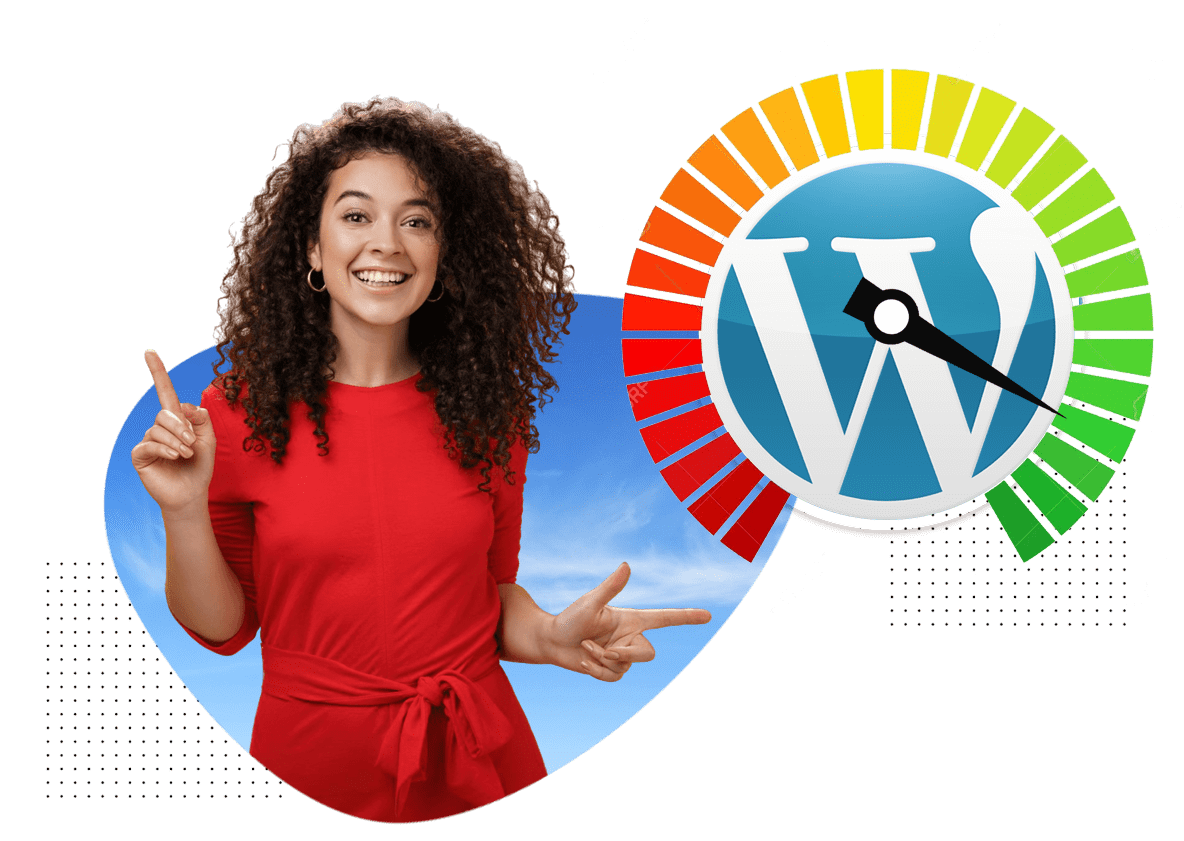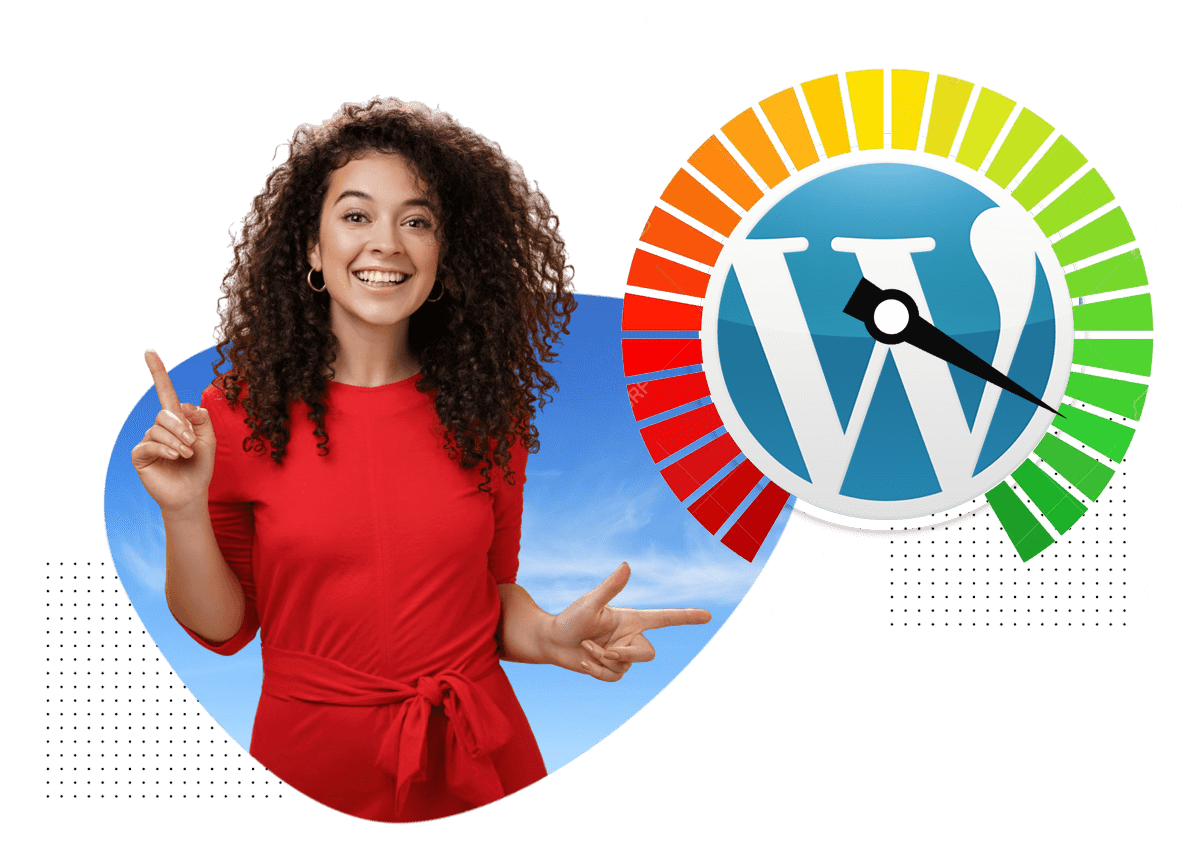 WordPress speed up service:
A complete audit and website performance

optimization

process
In this step, We will audit your website and prepare the current website performance, performance issues and gap analysis of your site
2
WordPress Site Optimization:
Faster load time for a WordPress website can be achieved through various means, such as configuring and tuning page caches, fast web host, lightweight theme, browser caching, optimizing images, compressing CSS and JavaScript, managing 301 redirects, modifying the .htaccess file, lazy loading, using fast hosting server,  cache plugin, reducing Time To First Byte (TTFB) latency, and implementing a content delivery network for quick loading time.
Once we have implemented our WordPress Site Optimization services, our website speed consultant will send you a report illustrating the improvements to your site speed.
Optimize images
Properly optimized image files can reduce page load times and improve website performance while keeping the proper image quality for the web. To optimize an image, it should be compressed to reduce file size, have the correct file format for the web, and have descriptive alt text for improved accessibility. Additionally, images should be scaled to the correct size for the page to minimize unnecessary image sizes. you can also use image optimization plugins and lazy load images. Lossless compression of images can help create a positive web experience for users and improve overall website performance.
Minify Resources (HTML, CSS, and JavaScript)
Minification is the process of making a file smaller by removing unnecessary data, code comments, and formatting. we can minify CSS files, HTML files, and JS files. This can be done without affecting how the browser processes the resource. By doing this, you can improve load times for your website or application and improve overall user experience.
Prioritize Visible Content
Organize the page so that the server's initial response holds the necessary data to promptly render the essential elements of the page while delaying the rest. The CSS should be broken into two sections: an inline segment for styling the above the fold content and the CSS applicable to items below the fold. This can help to handle the performance issue of your website and improves the average response time and execution time
Enable GZIP compression
GZIP compression can drastically decrease the size of the transferred response by as much as 90%, leading to decreased downloading time, lower disk space, lowered data usage, and improved page rendering times and faster performance.
A CDN (Content Delivery Network)
Distribution of content ( static resources)  to multiple geographically remote servers can ensure a rapid web experience for your users worldwide. Utilizing CDNs can provide a quick response and faster loading times to user requests, ensuring pages are loaded quickly from their viewpoint and improving user experience and overall website performance.
Once we have implemented our WordPress Site Optimization services, our website speed consultant will send you a report illustrating the improvements to your site speed.
Let's Speed Up Your

WordPress Site
Do you have a slow WordPress site? We can fix that - speak to our website speed consultant today!
"Dukami helped us to develop a stunning website, They patiently worked with us to understand our vision and executed it with timeliness. We have received numerous compliments on the beauty and functionality of our website and appreciate Dukami help in creating it.."

Ann Johnson VP of Finance

"This is one of the friendliest services I ever worked with. I'm an animal lover, and I have several websites about cats, dogs, dog training and the sort. Dukami helped me set up my newest website in no time at all and I'm already getting many new visitors on it."

Mary Catherine Graham Director, Operations and Sales

"I'm earning double with my small local business since Dukami helped me get more customers with the new website. I'd recommend them to any of my friends or clients."

David Molele Business Owner

These guys are wonderful and very professional helpful, I impressed the way they deliver my project on time. The best part is that they understand customer requirements and deliver accordingly and very patient and calm. I wished them all the success and prosperous life ahead in coming days.

As a startup company we are greatly supported by Dukami Company to set up our digital marketing strategy as well as website. Good analytical approach & 24/7 support from Dukami team for getting the desired millage during our launching phase and follow on activities.

Probably the best digital marketing agency in USA! If you're struggling with digital reach, this is the agency to go to. Their team is professional, diligent, enthusiastic and extremely skillful. I'm very happy with their services. Keep up the good work!

All acknowledgements to the experts of digital with us who have been working effortlessly for fetching traffic, visibility and ranking for my e-store. In just a few months, I have been getting outstanding results and seamless recognition through local SEO package which has served to become a boon in my newly commenced online business.

Thanks to Dukami team to give me expected result in terms of leads, business ideas and the result. I really like their project implementation approach, to the point written communication which surprised me for SEO and Digital marketing services especially in USA. They always give me clarity for all concern with the perfect solution in written. I recommend everyone to taste Dukami the best SEO & Digital Marketing company in for your business promotion.

A Great marketer with a keen understanding of technology and an ability to put it all together in one place. I would highly recommend any business owner use this marketr for their marketing technology build out.
Both small and large businesses have benefited from our expertise.
See how our team generated leads and sales for a variety of businesses across verticals.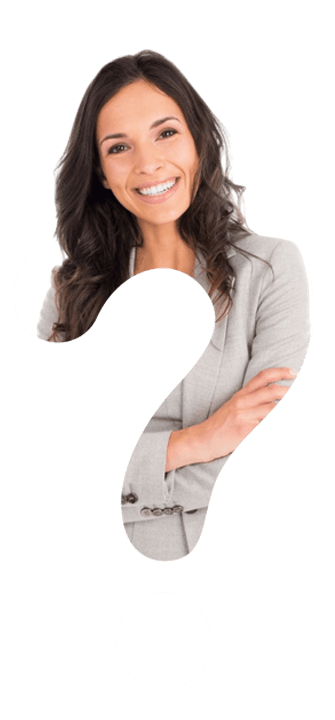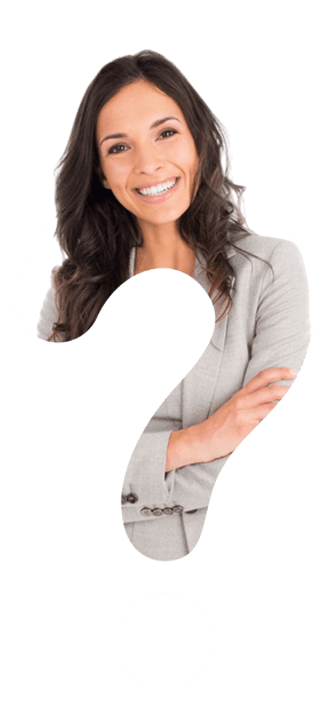 WordPress Speed Optimization

FAQs
Here are some commonly asked questions about our WordPress speed optimization service. Should you have any questions, please contact us.
In most cases, your mobile score will be below your desktop score. Here are some reasons why:
Mobile devices usually have slower processors, so layouts can take longer to load.
PageSpeed simulations take into account mobile network speeds, which are generally slower than WiFi speeds and less reliable
Mobile devices have specific rules that they apply, such as resizing images, viewport size, and running different scripts
The efficiency of a website can decrease as it is subjected to content augmentation and layout modifications. Additionally, performance-measuring tools are subject to periodic updates, which can affect their efficacy.
To ensure our support plan prices remain competitive, we created a Speed Optimization service distinct from our website support plans. Due to the features, scripts, and content of each website varying, the process of optimizing each website is both laborious and time-consuming; thus, this service was created to efficiently manage the optimization of websites.
If you are concerned with the loading speed of your website, please contact, us and our team will run a site audit
WordPress speed optimization is important because having a fast site is critical to ensuring that you make sales and book appointments. By failing to optimize for speed, you risk losing potential customers due to their dissatisfaction with the website's performance.
Plugins are often the culprit when it comes to a slow-running WordPress site. They take up space and can slow down the performance of your website. Fortunately, Dukami provides the most comprehensive WordPress speed optimization service. Our experts will be able to analyze your site and identify which plugins are having the most detrimental effect on performance and can offer advice on how to rectify the issue. You can remove the unused plugins, find alternative faster plugins and use a caching plugin or speed optimization plugins.
Many people erroneously believe that their WordPress website is loading quickly simply because it doesn't seem slow on their personal computers. However, that is a huge mistake.
Whenever you visit your own website, your browser stores it in its cache memory and automatically 'prefetch' it as soon as you start typing an address. This then loads your website almost instantly, giving the illusion that everything is fine. However, a first-time visitor to your website might not have the same experience.
To ascertain the rate of loading for your WordPress platform for diverse users, it is critical to conduct a test. Fortunately, there is a range of free online tools that can be leveraged to analyze the loading speed from multiple locations.
Let's Get Started
Set, Speed,Grow.
Let's start the conversation!
Let us know about  your business and website and our team will be in touch shortly on how we can help to speed up your WordPress website.
Fill out this form to get started!